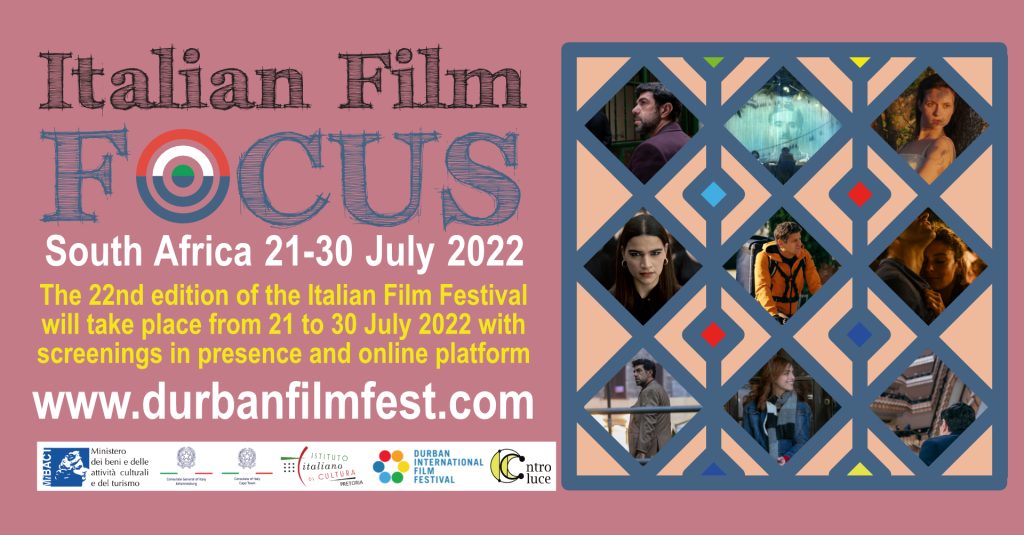 The cultural association of cinematographic authors Controluce, supported by the Ministry of Culture – Directorate General for Cinema, the Consulate General of Italy in Johannesburg, the Consulate of Italy in Cape Town, the Italian Cultural Institute of Pretoria and Cinecittà-Luce are pleased to announce that from 21st to 31st July the Durban International Festival, the oldest film festival on the African continent, will host ITALIAN FILM FOCUS, a selection of seven of the most recent and prestigious Italian films. The festival will take place in a hybrid version: six films will be screened online for the entire period of the festival, while Mario Martone's film NOSTALGIA (the only Italian film competing at the 2022 Cannes Film Festival) was screened at the cinema on 24 July, introduced by Alessandro Rak and Teresa Ricciardiello, representatives of MAD ENTERTAINMENT production.
As part of the Durban Film Mart, on 23 July a delegation of Italian producers and directors led by Dr. Roberto Stabile, head of international events at Cinecittà-Luce and ICE audiovisivo, met with the main South African institutions in the sector (DTI, NFVF – National Film and Video Foundation and KZN Film Commission) and some local producers. The meeting was dedicated to the analysis of Italian-South African audiovisual co-productions, the development of projects in the field of training (support for schools and courses in cinema and communication) and the promotion of the respective cinematography in Italy and South Africa. In this regard, a first meeting between Dr. Roberto Stabile, prof. Antonio Falduto of Controluce, the minister of culture of South Africa Nkosinathi Mthethewa and the South African ambassador in Rome Nosipho Ngcaba had already taken place on the occasion of the opening of the Biennale Arte in Venice.
On 25 and 26 July producers Serena Porta, Corrado Azzollini and Alessandro Rak will meet their local colleagues and visit locations which may potentially be suitable for their co-production film projects.
On July 28, the Italian delegation will reach Cape Town to meet local colleagues in a panel organized by WESGRO. Director and producer Alessandro Rak, already winner of the award for best European animation film in 2013 with THE ART OF HAPPINESS, will present his latest film YAYA AND LENNIE at the Labia cinema at 8.30 pm. Furthermore on July 29, NOSTALGIA by M. Martone will be screened, also presented by Alessandro Rak and Teresa Ricciardiello as representatives of the production company MAD Entertainment, that produced both films.
On July 30, the delegation will make a final stop in Johannesburg for the presentation of the film NOSTALGIA, also introduced by Rak and Ricciardiello, at the Ster-Kinekor Rosebank Nouveau cinema at 5 pm. Numerous representatives of the city's cultural and political life were invited to the event.
Lastly, on July 31st the film YAYA AND LENNIE by Alessandro Rak will be screened again at the Nouveau Cinema in the Rosebank Mall at 5PM.
The delegation will return to Italy on 1 August.
https://associazionecontroluce.org/
https://www.facebook.com/italianfilmfocus